carrie lee ray
, the titular character, talks about her 10th birthday, where her mom nearly got strangled by one of her dolls. carrie is adopted an abusive religious man named mr.johnson. she invites
joan
,
kristil
,
brittany
, and
rosa
to her house, where joan suggests a makeover...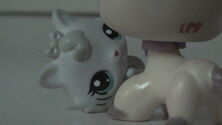 all the girls, except for Brittany who was at church, went to a makeover salon, and carrie's "so-so" look is turned lovely. but her dad beats her badly, and later a doll attacks him, and this incident broke the news. a boy who liked her, will, asks her to marry him.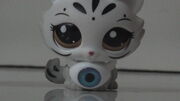 PART THREE
Edit
out of jealousy, joan dumps a bucket of corn starch mixed with red food coloring all over carrie, making a remark about her name, also the name of carrie white, who was dumped in blood. out of anger, she makes a doll come alive and terrifies the guests. on the way home, she runs into non-guest kristil, who nearly stabbed her by accident. she goes home and her father attempts to stab her with a cross, but misses and merely scratches her flesh. she reveals she was pregnant. she runs off, transfers her soul into a doll, and disappears. in the end narration, she reveals that she had survived.